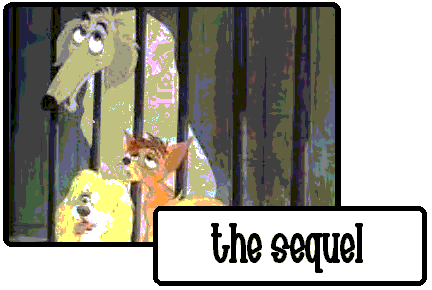 Okay, okay, I've heard a lot of people wonder what Lady and the Tramp's sequel is going to be about. I was wondering too, myself. Untill I collected some information on the topic. This page is here so it can tell you about the sequel. I hope you enjoy my collection of facts.
---
Release Date ~ 1999

Genre ~ Animated Direct to Video

Studio ~ MovieToons

Company ~ Walt Disney Pictures

Project Phase ~ In Production

Voices ~ Jodi Benson (Ariel's voice actress) will provide the voice of  Lady in Disney's direct-to-video sequel to 1955's  "Lady and the Tramp."

Written By ~ Bill Motz

Directed By ~ Darrel (Last name not known)

Plot ~ The Lady and the Tramp sequel was going to focus on Scamp. In case you are not familiar with Scamp, he was the rambunctious little puppy seen at the end of the first feature. He also had a long, successful run in comics which followed his adventures (and misadventures).-(Info supplied by Rich Pegasus)

Music ~ Songs from Melissa Manchester ("The Great Mouse Detective")

Lyrics ~ by Norman Gimble Notes mentioned at the end of the Lady and the Tramp re-release (September 15,1998).